Brochure Downloads
Instructions
Lodgepole Frame Set Up Instructions
Setting up a wall tent using lodgepoles
When selecting poles for a pitching a wall tent, try to use poles that do not taper much and are fairly consistent. A minimum diameter of four inches (on the smaller end) is preferable. Young, straight, healthy lodgepole pine trees make ideal poles for this purpose.Use the best pole (clean and strong) for the ridgepole, as it takes the most stress and is the most difficult to change. When attaching one pole to another, lash them together with rope and/or drive pole spikes to attach them together. If you are likely to use the same campsite in the future, a helpful tip is to cache the poles when breaking camp. Lodgepoles can provide you many years of service if you care for them.
Attach ropes (10′ each) to eave grommets. Insert from the top side and secure with a simple overhand knot.
Attach ropes (20′ each) to ridge grommets in the same manner.
Install guy line rope tensioner on the free end of each rope.
Make stake loops by tying a small loop into the rope and cutting it off. Insert loops through grommets at the bottom of the tent.
Insert lodgepole through the ridgepole openings at the roof peak. The pole should protrude at least 18″ on each end.
Lash and/or nail two legs together about one foot from the top (small) end.Place the attached ends of the poles next to one end of the ridgepole.Spread the legs to form a wide 'V' with the point at the ridgepole. Repeat this for the other end of the tent.
Attach ridgepole to legs by tying it to the small 'V' above the point the two legs are tied together.
Raise the tent by lifting one end of the ridge pole at a time and adjusting the legs to support it. Adjust to the proper height by moving legs in or out until the center of the endwall just touches the ground.
Stake the ridge guy ropes and adjust tension. Stake the bottom center of the endwall.
Attach eave poles to legs. Find the proper height by pulling the corners of the tent out. The poles should lie just below the eave of the tent.
Run the eave guy ropes over the eave pole and stake to the ground.
Stake the bottom of the tent (with door fastened closed).
Place dirt, snow, rocks, or branches on the sod cloth to help seal the bottom of the wall.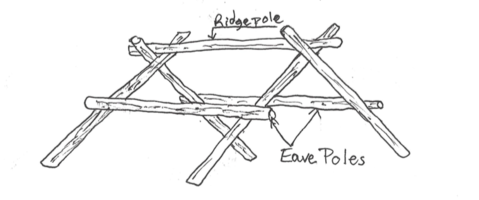 Canvas Tent Standard Features
Determine the standard features canvas tents have that you are considering and the cost of additional features/options you want. Most canvas tent buyers want at the minimum these standard features:
Front door with zipper
Stove jack
10″ – 12″ vinyl sod cloth to keep canvas tents clean and sealed against the ground
Rope with tensioners
Tent stakes
Canvas Tent Cost Comparison
If the canvas tents you are considering purchasing do not have the standard features listed, you need to add the costs of those features to the price of the tent before you can make a valid tent comparison.
Some tent manufacturers list common standard features as options to increase the price of the tent from an initial low advertising price.
Recommendations
MTC recommends a back door with zipper for cross ventilation for hot weather. Being in a canvas tent without a back door or window is miserable during hot weather.
Also strongly recommended is a tent bag to keep your tent clean during hauling and storage.
If you are not sure about a feature, it is good to add it in the initial order. It is much cheaper to add features while the tent is under construction compared to costs after you take delivery.
Color Of Tent
MTC strongly encourages you to purchase a tent that is a color that meets your requirements. White reflects lantern light much better than off-white or colored tents. White shows the dirt faster than a colored tent. A colored tent will be warmer in colder conditions for it will not reflect the UV rays. This is more of a personal preference than anything else; use your best judgment.
Purchasing a large tent: Large canvas tents, 14'x16′ to 16'x24′ can weigh from 90 – 120 pounds and can be very difficult to set-up. Consider purchasing a blend tent with its canvas roof and synthetic lightweight Relite walls. The blend tent weighs much less than an all-canvas tent making it much easier to handle and set-up. The blend tent with its lightweight Relite walls is just as durable and weatherproof as all canvas tents.
Cost of tent frame
Metal frames are expensive to ship you might want to purchase an angle kit and make your own frame from 1″ electrical metal conduit. You can purchase conduit at local hardware store.
Purchasing metal frames vary tremendously between companies and has to be a major consideration where you purchase your tent.
Recommendation: MTC recommends you consider fire treatment. The additional expense is worth the peace of mind that your tent will not readily catch on fire. The most stringent fire retardant certification is California and should be considered when purchasing a canvas wall tent.
Recommendation: Do not buy a tent that is not treated for fire resistance if you are going to be using any heating unit. MTC highly recommends you buy a tent that is all ready treated for water/fire/mildew.
Paraffin Finish: An exceptionally heavy finish that treats canvas for water, mildew and fire resistance. The heavy paraffin finish should make the canvas more, water, mildew and fire resistant. This coating has a longer life than most other coatings because it does not crack or leave the canvas fibers as quick. However, significant weight is added to the tent.
Recommendation: Unless weight is extremely critical, MTC would recommend a blend tent (canvas roof and Relite walls) if you want to reduce tent weight. The canvas roof allows the tent to breathe and reduces condensation, and reduces the possibility of a spark hole in the tent roof. If weight is critical, go with an all-Relite tent. Keep in mind, Relite tents do meet all the fire/water/mildew requirements as previously discussed. Relite is a registered trade mark of Montana Canvas and should not be confused with other synthetics on the market. Relite has been tested in the field for the last 15 years and has been a proven product among people in the back country where weight is extremely critical. Keep in mind the pros and cons of going with a synthetic line of fabric. If an individual is aware of the differences of canvas and Relite, this fabric will perform to anyone's expectations.
Canvas Weight: Heavier canvas is not necessarily better. The grade of canvas determines the quality along with the type of coating that is applied to the tent. How the coating is applied is another major factor. Be careful as there are a lot of fancy names that are attached to coatings to help market products. Water/fire/mildew coatings are very critical and should be applied by a finishing plant and not the tent manufacture or consumer unless they have the proper equipment.
Sod Cloth: Normally a piece of 10″ – 12″ vinyl that is sewn to the bottom of all tent walls. The sod cloth acts as an air seal and helps keep the tent clean since the vinyl sod cloth is touching the ground instead of the canvas.
Eave: Location where roof and side wall meet.
Eave Socks: Openings at the end of the eaves that allows connecting a tent internal frame to the porch/awning/cook shack frame.
Floor: Can be sewn in, or staked to the ground separately.
Recommendation: Don't sew in a floor when using an internal frame if you do not add a second door as it makes for a difficult set up.
Recommendation: Always have a cut out in the floor area where stove is located when using a floor. Factory tent floors have an area cut out or a zippered area.
Fly: Water proof material used to cover tent roof. Protects tent from sparks, UV rays, moisture and allows snow to slide off easier. A factory fly has an area cut out for the stove jack and has a flap. A tent fly may help with any condensation problems that may occur from using propane heat, boiling water, and drying wet clothes. This is because it will help insulate the roof area. Some condensation problems occur when warm air meets cold air, and a fly will help eliminate this.
Recommendation: Buy a fly if you are going to leave your tent setup for extended periods of time. UV rays are very damaging to canvas. In extreme weather conditions the fly just adds extra protection for heavy rains and snows.
Porch: Extension of roof and walls of the tent. Front is open or screened. Porch can be butted up to the main tent with an overlap on the roof and sides.
Cook Shack/Kitchen: Extension of roof, walls, and front enclosed with a door. Cook shack provides a totally enclosed area for storage and cooking. The cook shack can be butted up to the main tent and will overlap the sides and the roof of the main tent.
Note: The porches and the cook shacks do not have a back wall and are designed for use with an existing tent.
Tent Frames: There are a few basic type of tent frames
Internal frame: Galvanized steel tent frame or aluminum tent frame are normally used by individuals camping near a road. However, an aluminum tent frame can be easily packed.
Lodgepole Frame: Normally used by people who pack in and make their own frame from lodgepoles.
General Information
Zipper Door vs Tie Door: A zippered door keeps warm air in and cold air out better than tie doors. If you use a tent in cold weather I would recommend a zippered door.
Zipper Maintenance: Always have zipper unzipped when placing/removing tent over frame to prevent too much stress on zipper. As your tent shrinks the tent will fit tighter on the frame and increase stress on the door zipper.
Recommendation: Cut frame down as necessary to prevent unnecessary stress on zipper. You do not want to be camping in cold weather and have an unserviceable zipper.
Metal Zipper vs Neoprene Zipper: Most tentmakers use YKK #10 neoprene zippers. A metal zipper freezes more easily than neoprene. Also metal zippers that are bent become unserviceable. However, some tentmakers use metal zippers as a selling point but you have to decide which is best for you.
Stake Loops vs Grommets: Canvas stake loops are on the ground and get wet and eventually weaken requiring replacement or repair. At Montana Canvas, we prefer grommets over stake loops. If you like stake loops, then ensure stake loops are made from poly which is much more durable than cotton.
Mildew: If you have mildew on your tent mix 2 cups of bleach in a 5 gallon bucket. Wash only the area with mildew. Let stand for about for about 10 minutes and than rinse off with water and let the tent dry. A sunny day will help with this process. A soft bristle brush or broom can be used to scrub with if necessary. You might have to put a canvas preservative on after this process. I recommend Canvak for Montana Canvas wall tents this will not hurt the tent because it matches the treatment that is all ready on the tent. Other products can react with the treatments on the tent causing the life of the canvas tent to be much less.
Washing Tent: The use of a mild detergent is fine or we recommend using Iosso Mildew & Stain Remover. Use a hose and scrub lightly with a soft bristle brush or broom. High pressure washers are not recommended.
Stove Inside of Tent: Never place a stove on a canvas or synthetic floor for safety. Most factory floors have a cut out or zippered area for the stove.
Actual Size of Tent: Most tents made by tentmakers are not made to the exact size ordered. For example a 12'x14′ might actually be 11'8″x 14'6″ because rolls of canvas can differ by three or four inches. Montana Canvas tents are with in an inch or so of advertised size.
Where the Tent is made: I would be cautious of any tent not made in the USA. USA made canvas tents are generally higher quality than less expensive imported canvas tents.
Tent Life Expectancy: A good quality tent, made in the USA, should last the typical person 20-30 years. Leaving the tent set up for long periods of time (months) in the sun, without a fly, and storing the tent wet are the two main factors that affect tent life expectancy.